All orders must be prepaid. MasterCard, VISA, Discover, American Express, and PayPal are acceptable methods of payment.
Churches and schools must provide payment with their first order, and credit arrangements can be made for future orders. Past-due accounts may be put on a payment-with-order basis. A service charge of 1.5% per month (minimum $.50) will be added to past-due invoices. Copies of paid invoices and monthly statements sent only upon request.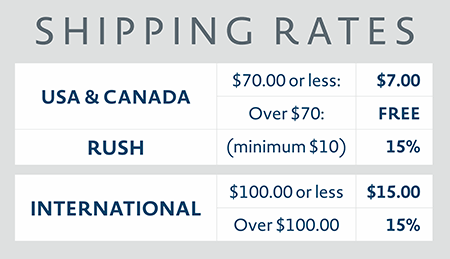 US SHIPPING. Regular orders are usually shipped within 5 business days. Provide a physical address so shipments can be sent by UPS or FedEx. Delivery from time of shipment is 1-3 days east of the Mississippi and 3-6 days west of the Mississippi. Regular shipments to Alaska or Hawaii and any orders to PO boxes may be shipped by US Media Mail. Rush Orders will be shipped within 2 business days to arrive within 3 business days from shipment in the contiguous states. Rush orders to Alaska or Hawaii will be sent by Priority Mail to arrive within 8 days. Urgent orders, such as Next Day, will be charged actual shipping cost.
Canadian shipments over 5 pounds to physical addresses will generally be shipped by UPS. Canadian orders in envelopes or to PO boxes are shipped by courier to the US/Canadian border and distributed by the Canadian postal system. If you request an irregular delivery method, you will be charged rush shipping.
International orders are shipped by airmail to arrive in 3 to 6 weeks. If you request an irregular delivery method, you will be charged 15% plus the actual shipping cost. Contact Christian Light for more delivery options.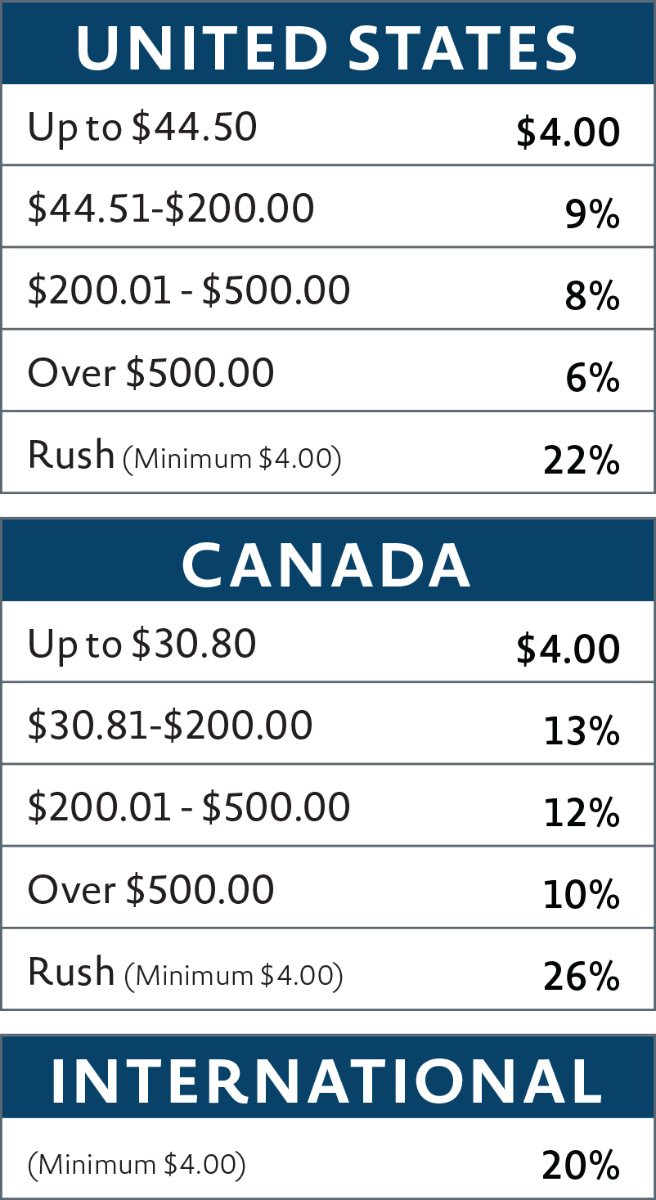 Arrange pick-up time when placing your order. There are no shipping charges for pick-up orders. Orders picked up at our office in Virginia will be charged VA sales tax even though the items will be taken out of state. (VA sales tax-exempt organizations may submit the proper exemption form.)
Please check that you have received the correct number of boxes. Each label will show the number of boxes in the shipment. (Example: for a 3-box shipment: 1 of 3; 2 of 3; 3 of 3.) Compare the contents of your order with the enclosed packing list. Notify the Order Department immediately if a shipment is lost, damaged, or incorrect.
Back-ordered items will be sent as soon as they are available.
Before returning any material, contact the Order Department for a return authorization number. Clearly write the number on the outside of the package. All returns should be in saleable condition to receive credit—original condition and current edition. Non-saleable items will be disposed of by Christian Light. US customers, allow up to 30 days to process your return; Canadian and foreign customers, allow up to 60 days.
No credit for shipping fees, COD fees, or sample packets.
Credit will be given as follows:
Postmarked by 45 days: 100% credit
Postmarked between 45-90 days: 50% credit
After 90 days: No credit.

Sunday school materials: 50% credit
Story papers subscriptions: 85% credit for remainder of subscription.
ADDRESS FOR RETURNS VIA US MAIL:
Christian Light Publications
PO Box 1212
Harrisonburg, VA 22803
ADDRESS FOR RETURNS VIA US UPS:
Christian Light Publications
1051 Mt. Clinton Pike
Harrisonburg, VA 22802