Christian
Homeschool
Curriculum
That Makes Your Job Easier, Not Harder
Overwhelmed
with curriculum that takes too much of your time and energy?
Worried
about wasting a year of your child's education?
Tired
of paying so much for curriculum?
Transform your homeschool:

From chaotic to peaceful

From uncertain to confident

From budget-busting to affordable
Both you and your student feel frustrated when your curriculum is "just not working." Homeschooling becomes a burden. You dread each day.
Homeschooling will always take hard work, but with effective curriculum you can enjoy the journey!
Instead of overload . . .
. . . You can homeschool successfully as a busy parent.
. . . Keep multiple children on track without running yourself ragged.
. . . Give your children a quality Bible-based education.
You may wish to choose Christian Light homeschool curriculum if:
You don't have hours to spend in lesson prep.

You want your students to

study more independently.

You admire values such as family, community, hard work, simplicity, and service.

You are looking for affordable curriculum that doesn't compromise academic quality.

Your children get enough screen time without doing schoolwork on a computer too.
You can choose one course or use several subjects.

Christian Light has such amazing products that have been very encouraging and helpful for our family. Thank you for making homeschooling such a pleasant experience. –a family from England
Are you struggling with homeschool curriculum?
Are you overloaded with a curriculum that depends too much on you?
Are you looking for a specific subject to fill a need in your homeschool?
Is your current curriculum not working for your children?
With Christian Light homeschool curriculum you can:
Homeschool successfully as a busy parent.
Keep multiple children on track without running yourself ragged.
Give your children a quality Bible-integrated education so they succeed at life.
What Makes Christian Light Work?
---
Simple, effective design.

Workbook format bolsters your student's sense of achievement.
Most Christian Light courses are divided into 10 workbooks called LightUnits. Students feel confident and successful when they complete a LightUnit every 15-17 days rather than becoming overwhelmed by a large textbook for the whole year. Some courses require a textbook.

Biblical worldview anchors your students in God's truth for God's glory.
A Bible-based worldview that acknowledges God as Creator and Master touches the way every subject is presented so that your student grows in wisdom and understanding. "The earth is the LORD'S, and the fulness thereof; the world, and they that dwell therein" (Psalm 24:1).

Daily lessons teach new concepts in bite-size increments for better mastery.
Sunrise Edition Math and Language Arts courses introduce new concepts in bite-size increments at the beginning of the lesson. Your student will master concepts more easily because each new increment builds on and expands concepts that were previously taught.

Systematic daily review cements skills and concepts in students' memories.
The built-in daily review process is a key component of the spiral learning approach in Sunrise Edition courses where multiple threads are taught simultaneously. The structured system of review exercises keeps concepts fresh in your student's mind.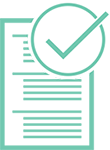 Frequent quizzes and tests gauge your student's success.
With two quizzes in each LightUnit, measuring progress is simple. You can monitor how well your student is grasping the material and help them with trouble spots so they succeed in learning.

Workbook design frees your student for productive study.
The distraction-free design of Sunrise Edition LightUnits focuses your student and enhances their learning. Instead of cartoon-style illustrations, the high-quality artwork sparks interest, illustrates the text, and grounds learning in real life.

Browse curriculum and samples on our website.

Take diagnostic placement tests in Math and Language‍ Arts.
Place your order and enjoy the homeschooling journey!

My only regret is that I did not know about your curriculum earlier. –Summerville, SC
How to Use LightUnits
These workbooks help keep homeschooling simple for both parents and students.
Step 1
You remove the quizzes and test from the back and center of each LightUnit.
Step 2
Your student completes a lesson each day. You introduce the new daily concept and coach as needed.
Step 3
Your student takes a quiz every fifth lesson, and a test at the end of each LightUnit.
Step 4
After successfully passing the LightUnit test, your student begins the next LightUnit in the course.
Got questions?
We've been creating curriculum since 1974, and we are happy to help!
If you would like help getting started homeschooling or if you have curriculum questions, our caring and friendly staff are eager to answer your questions.

Stay informed.
Sign up to receive periodic updates from Christian Light.