Become Better Equipped for Service
at a summer training session for teachers
Are you a new teacher gearing up for your first year of teaching?
Do you need fresh inspiration or tools as an experienced teacher?
Are you a school board member or principal becoming more involved at school?
Attend a summer teacher training session.
One-week training sessions are provided each summer at a Christian Light training center. Sessions at other locations are available upon request if there is sufficient interest. Training sessions provide course materials in addition to lectures and discussions directed by experienced Christian Light personnel.
At these sessions, you can:
Gain inspiration for your task.

Glean insights from other teachers.

Stay up-to-date on Christian Light's policies, procedures, and curriculum.
The training course prepares you to evaluate and place students for successful achievement in Christian Light curriculum, explains the curriculum structure, and covers Biblical principles of Christian education. Upon successful completion of the course, you will be awarded a Christian Light Teacher Training Certificate.

Christian Light's teacher training week was very worthwhile for me. I feel I've drunk from a fire hydrant! I just hope I can remember half of what I've learned this week.
Note! Due to COVID-19, some teacher training sessions in 2020 have been canceled, some have been postponed, and some have been moved to new locations. Please call or email the Christian Light office (877-226-8010) or the specific contact listed in the brochure.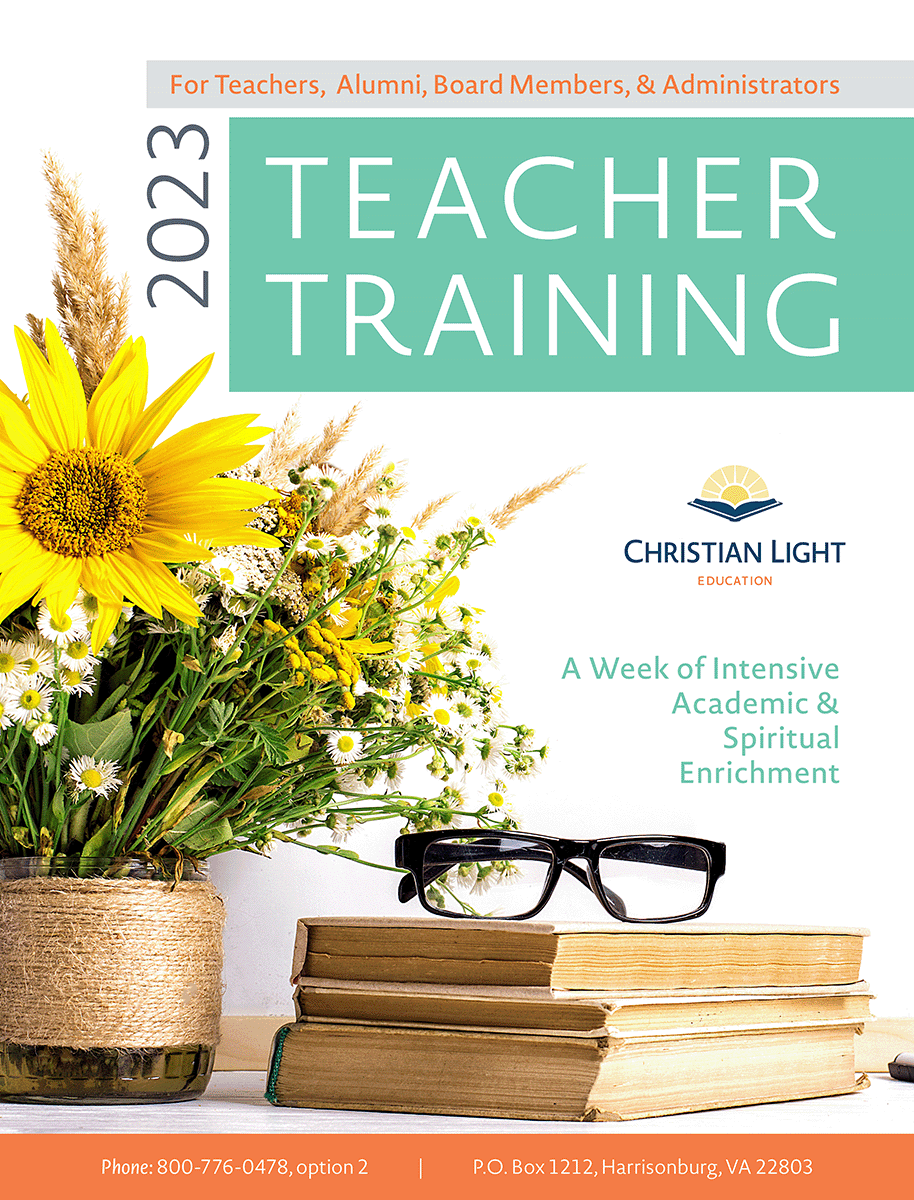 Following is the latest information on training sessions and dates. Download the

Teacher Training brochure

for additional information.
| | | |
| --- | --- | --- |
| Facility | Location | Date |
| Old Colony Christian School | Aylmer, ON | July 3-7 |
| Christian Light | Harrisonburg, VA | July 10-14 |
| Kleinegemeinde Mennonite School | Spanish Lookout, Belize | July 12-18 |
| Lighthouse Christian School | Huntsville, AR | July 24-28 |
| Gaines County Mennonite School | Seminole, TX | July 31-August 4 |
| Christian Light | Harrisonburg, VA | August 7-11 |
| New Covenant Mennonite School | Elida, OH | August 7-11 |
| Ozark Mennonite School | Seymour, MO | August 7-11 |
| Living Hope Fellowship | Neepawa, MB | August 21-25 |
| Grace Christian Learning Centre | Bow Island, AB | August 28-September 1 |
| Gospel Light Christian Academy | LaCrete, AB | September 4-8 |

I would strongly encourage especially school committee members, as well as parents, to make this investment in the life of the children they are serving. The training does indeed equip us to understand the daily operation of school for effective working together with the parents as a team for the spiritual welfare of our children.